We're looking at every team's best players on offense and defence, this time around we take a look at the AFC West division!
The rest of the series can be found: NFC North (24/06), AFC North (25/06), AFC East (28/06), NFC East (29/06), NFC West (02/07), AFC West (03/07), AFC South (06/07), NFC South (07/07)
Denver Broncos
Best offensive player: Courtland Sutton, WR
Sutton popped onto our screens this season with 1,112 yards to go with six touchdowns. He definitely flashed his potential in 2018 but the emergence of Drew Lock helped this second-year player have a couple of games bang off the charts. He's a big target and very athletic, sort of a do-it-all receiver. Now there are a few more mouths to feed in this Broncos offense but hopefully, it means there's less pressure on Sutton and he can continue to dominate rather than others taking away from him.
Best defensive player: Justin Simmons, FS
Simmons was a relatively unknown player to casual fans in the 2019 offseason and then he flashed all his potential in 2020. His stat sheet popped off with 93 tackles and four picks. Now franchised and heading for a new deal with the team, Simmons could be the most athletic safety in the NFL, able to get anywhere on the field whenever he needs to be there.
Las Vegas Raiders
Best offensive player: Josh Jacobs, RB
A stellar rookie season that could have won OROY if it wasn't for the strange choice of Kyler Murray. Jacobs runs hard but they need to get him more involved in the passing game which he was excellent at in college. He finished 2019 with 1,316 total yards and seven touchdowns which is a solid foundation with which to into his second season and dominate for a Raiders team on the upswing.
Best defensive player: Cory Littleton, MLB
The linebacker from the Rams who can just about do anything you need him to do, Littleton will be a huge addition to this Raiders defence that has been missing good linebackers for years. They also added Kwiatkowski who, like Littleton, is elite in coverage. This pairing will do well under bright lights of Vegas and help the defence out immensely.
Los Angeles Chargers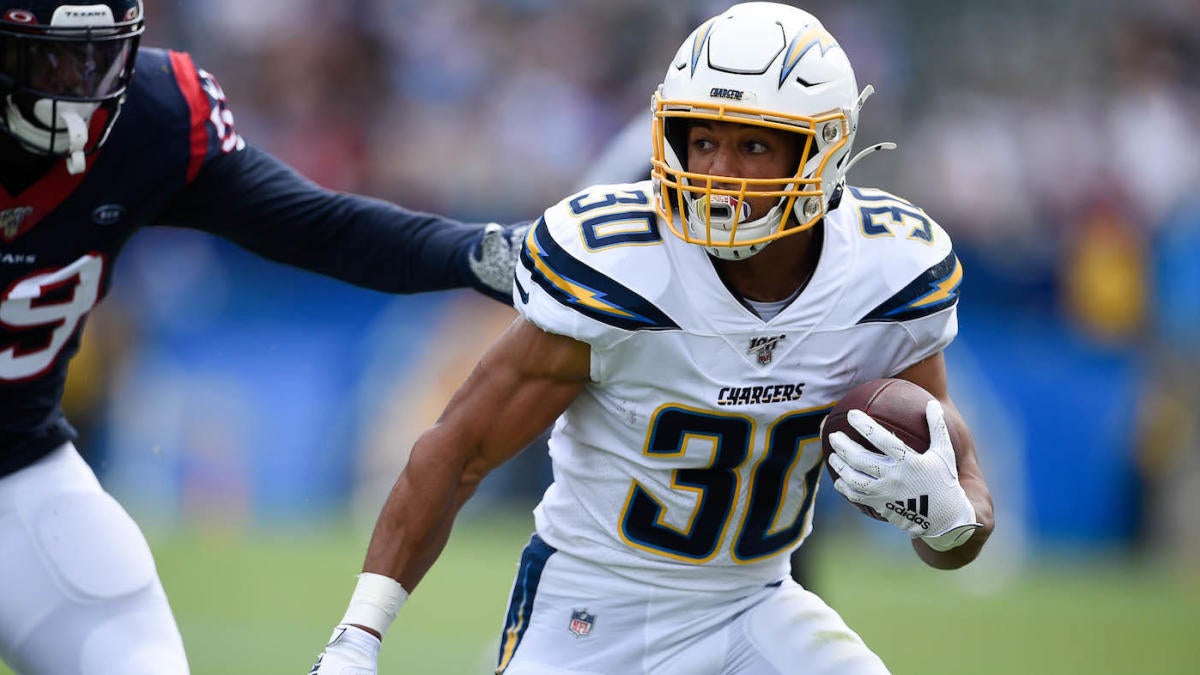 Best offensive player: Austin Ekeler, RB
You could choose Keenan Allen here but when I think about who might be playing QB I'd choose Ekeler to have the better season. He's the perfect dump-off RB which is perfect for either Tyrod Taylor or rookie Justin Herbert. He basically forced Melvin Gordon to return from his holdout and pushed him off the team because he excelled in Gordon's absence.
Best defensive player: Joey Bosa, LDE
Joey is still the best Bosa in the league, for now. He will continue to chase down QBs at a startling rate, we just have to hope he stays healthy. If he is healthy then he could easily push himself for the sack record. He's explosive, has a capable pass-rushing partner in Melvin Ingram and his play speed is ridiculous.
Kansas City Chiefs
Best offensive player: Patrick Mahomes, QB
The Super Bowl-winning, MVP awarded third-year QB of the Chiefs is in a very good place right now. He's on the cusp of signing a mega-deal rumoured to be worth up to $50 million per year and he's achieved more in three years than most people do in their lifetime.
Best defensive player: Chris Jones, DT
Tagged and motivated to get a huge long-term deal, Jones will continue to grind up opposing linemen and spit them out. He's has a knack for knocking down balls at the line of scrimmage and will command a massive payday from somebody in the 2021 offseason. The Chiefs should have locked him up when they could for cheap, this is a bad, bad man and one of the best players in the AFC West.
Keep up with all the NFL offseason news with Gridiron Pulse!
Depth charts sourced from ourlads.com!